CORE DRILLS - WATER SWIVELS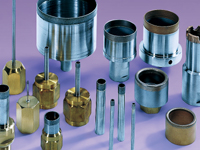 Premium diamond core drills available ranging in size from 0.030" to 4.125" outside diameter/0.011" to 4.025" inside diameter. Both thin wall and thick wall drills are available, in addition to disintegrating center drills, double core drills and drills with slotted rims. Advanced metal bond technology allows for fast, free drilling with minimum diamond section wear. Tolerances ranging from +/- 0.0005 to +/ 0.0030 can be accurately held. Core drills can be produced with lengths ranging from 2" to 15" depending on drill diameter. All industry standard adaptors available for mounting in addition to a selection of custom mounts.
NORTH JERSEY DIAMOND WHEEL also has a wide variety of water swivels available to fit just about any type of drilling equipment. Water swivels are available with different threads and mounts and are designed to give worry free performance. Several models are available from aluminum bodies to stainless steel all with sealed ball bearing construction with high grade, non-leaking oil seals for long life and high performance in even the most severe of working conditions.